Tips & Tricks
One of the most popular features in the late volunteer-produced PC Report was the "Tips & Tricks" column. Here's a tip to whet your appetite:
Fedex Ship Tip
If you use Federal Express, you should look into that company's free shipping software called "Fedex Ship." This program performs a plethora of shipping-related tasks, including generating laser-printed airbills, tracking packages, storing commonly-used addresses, and so forth. You can download Fedex Ship from Federal Express's Web site (www.fedex.com) or by calling 1-800-GO-FEDEX.

To work its miracles, Fedex Ship dials into Federal Express's mainframe (I thought they were all going to be scrap by now). Tapping directly into Fed Ex's information systems allows the software to confirm (for example) that a package can be delivered to a particular address.

This direct connection saves time and money for both Federal Express and its customers. It's much quicker to check a package's status using Fedex Ship than it is to call the company's 800 number. Since the service type, destination address, and Zip code are confirmed before the software prints an airbill, you know the package is headed to the right place. In fact, Fedex Ship prints the necessary routing bar codes right onto the airbill. Further, since you have obligingly keyed in all the information Fed Ex needs to bill you for the shipment, they don't have to pay people to key in data from conventional paper airbills.

Fedex Ship is a boon for any computer-literate Federal Express customer. By and large, it's a well-written and bulletproof product. Its only major weaknesses center around the dial-up communications functionality.

Sadly, Fedex Ship is a 16-bit Windows 3.x application, with all the communications mayhem that implies. One of the little-celebrated but vital improvements in Windows 95 was the arrival of the Windows Telephony API, which built support for hundreds of modems right into the operating system.

With Fedex Ship, you still have to select a modem from a list built into the software. If your modem isn't on the list, you have to select the closest match and hope for the best. If the software doesn't connect properly, you're sucked into a nightmare of modem setup strings.

I can't help you with this, but I can perhaps make your life a little simpler.
Dialing Differently
When you install Fedex Ship, it sets a phone number for you, hopefully in an exchange that's a local call for you. There's no obvious way to change this number or to find out what other numbers are available. Fortunately, I thrive on the non-obvious.

By happenstance, I noticed that the local number Fedex Ship set for me was the same access number I use for CompuServe. That's right! Though neither Federal Express nor CompuServe advertise the fact, they use the same network of local access numbers.

This means that you can use any CompuServe access number with Fedex Ship, even an ISDN number! To find out what numbers are available in your area, you can use the CompuServe command "GO PHONES" (as long as you're a CompuServe member). You can also use the "universal" CompuServe access number (800) 331-7166.

Changing the number Fedex Ship uses is tricky. To enter a new number, click the "Settings" button, then the "Modem" button in the "Settings" dialog box. You should see something like this: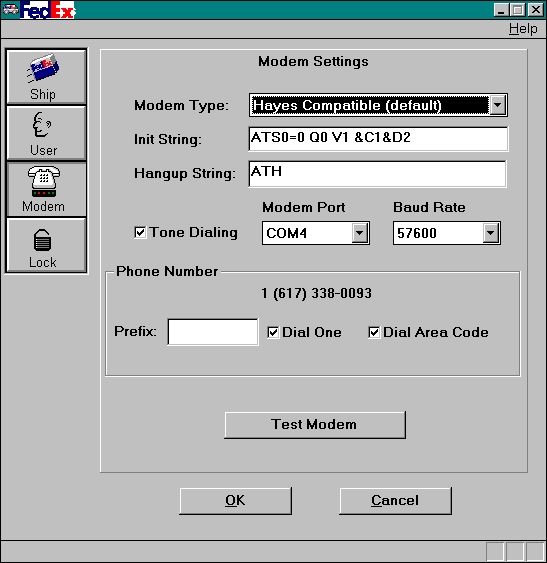 The above settings are typical for ISDN access. Now, hold down the <Shift> key and double-click the phone number in the "Phone Number" box. You'll see a dialog box like this: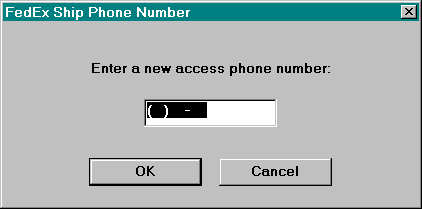 Type the new phone number into the dialog box and press <Enter>. Check to see how the number is displayed in the "Settings" box; you may need to check or un-check the "Dial One" and/or "Dial Area Code" boxes to get the correct number.
Once you've set the new access number, you should probably make sure your modem is turned on and click the "Test Modem" button to make sure everything's working.

---
[Home]
[Table of Contents]
[Next]
[Feedback]