Encoding and Decoding for Windows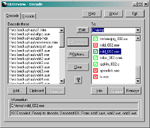 UUDeview is a program that will help you to transmit and receive binary files over the Net. It includes both an encoder and a decoder. The decoder automatically detects the type of encoding used, offering MIME Base64, yEnc, and BinHex as well as the popular uuencoding and the less frequently used xxencoding methods. The encoder runs the other way around and encodes a binary file for transmission by e-mail or over the newsgroups.
The decoder is particularly powerful; it was designed to fit the needs of news readers. To be precise, it is a smart multi-part multi-file decoder. You simply save a bunch of articles from your newsreader into a single or into multiple files, and then fire up UUDeview. You do not need to edit the article files at all.
Note: UUDeview is not an encryption or decryption program. It handles converting binary files to and from ASCII format for transmission through e-mail or the newsgroups.
Download UUDeview version 1.4
This version introduces a few improvements and changes, the most important of which is support for the yEnc encoding algorithm which is growing more popular in the newsgroups.
If you want to quickly and simply upgrade your existing version 1.3 installation of UUDeview, you can replace your current Uud32.exe with the one in the "EXE only" download. This will not update the help file, but there are few changes in the online help from v1.3.
To install a fresh copy of the new version, use the standard installer.
Standard installer via HTTP. You can launch this setup program directly from the link or save it to your hard disk and run it to install UUDeview. Includes online help and examples.

Uud32Setup.exe, 600KB, 23 June 2002


FTP
EXE only via HTTP. This ZIP archive is for advanced users who want the smallest possible UUDeview download and install footprint. It contains only the bare minimum required to run UUDeview, the executable file itself. No installer, no help, no examples -- just the essentials!

Uud32_14.zip, 185KB, 23 June 2002

FTP
Stay informed
If you want to receive e-mail notification when UUDeview is updated, fill out the form below and click the button:
Inform me when UUDeview-32 is updated:

Type your name and e-mail address, then click the button to be notified. This information will not be used for any other purpose.
Questions and More Information
Please start by looking at the UUDeview Help page. If you need more information, you can go to the official UUDeview Web Page: http://www.fpx.de/fp/Software/UUDeview/
In the last extremity, you can send mail to:
Last revised: 24 September 2002